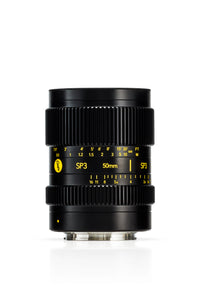 Cooke SP3 50mm Full-Frame Prime Lens Sony E-Mount
Cooke 50mm prime lens is a versatile and lightweight tool that excels in various filmmaking and photography applications. The E-Mount can be easily interchanged by the operator for an RF*, L, or M** mount. This makes Cooke lenses an easy addition to your existing camera setups.
You can view the box-office hits shot on Cooke optics here.
The Cooke 25mm prime lens offers a versatile T-stop range from T2.4 to T16, making it an ideal choice for various lighting conditions in both filmmaking and photography. With a generous 78-degree angular rotation on the iris scale, it provides precise control over depth of field and exposure, perfect for achieving cinematic effects.
The Cooke 50mm lens's compact design, measuring just 94 mm (3.7 inches) in length and 64 mm (2.52 inches) in diameter, is well-suited for handheld or gimbal-mounted shooting.
With a natural angle of view of 47 degrees for full-frame (FF) format and 34 degrees for Super 35 (S35) format, this lens is perfect for capturing both dramatic cinematic scenes and walking shots.
*RF-mount will be available soon after launch. Purchasers will be able redeem a set free of charge by following the instructions in the packaging.
**M-mount available early 2024.
SP3 | Basic Specifications
 Specifications

25mm

32mm

50mm

75mm

100mm

T-Stop range

T2.4 - T16

T2.4 - T16

T2.4 - T16

T2.4 - T16

T2.4 - T16

Angular rotation of iris scale

78°

78°

78°

78°

78°

Min. marked object distance

250 mm

350 mm

500 mm

800 mm

800 mm

10 in

13 in

20 in

3 ft

3 ft

Close focus from lens front

139 mm

223 mm

394 mm

689 mm

663 mm

5.5 in

8.8 in

15.5 in

27.1 in

26.1 in

Angular rotation to MOD endstop

160°

160°

160°

160°

160°

Length from front of lens to lens mount (E - Mount)

98 mm

94 mm

94 mm

98 mm

124 mm

3.85 in

3.7 in

3.7 in

3.85 in

4.88 in

Max. front diameter

64 mm

64 mm

64 mm

64 mm

82 mm

2.52 in

2.52 in

2.52 in

2.52 in

3.22 in

Max. diagonal angle of view for FF format

81°

69°

47°

32°

25°

Max. diagonal angle of view for S35 format

62°

50°

34°

22°

17°

Total weight (with lens mount)

575 g

520 g

500 g

520 g

690 g

1.27 lbs

1.15 lbs

1.10 lbs

1.15 lbs

1.52 lbs

Screw-in filter

M58 x 0.75

M58 x 0.75

M58 x 0.75

M58 x 0.75

M77 x 0.75