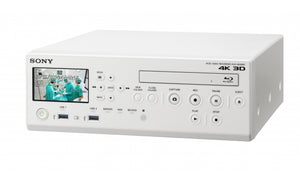 Supporting healthcare professionals throughout their workflow
The Sony HVO-4000MT is already firmly established as the most versatile, feature-rich 4K 2D and 3D medical recorder in its class. With the addition of DICOM Modality Work List support for a smooth metadata workflow and an HD input for flexible video integration, it's now an even more compelling choice for clinical teams.
Integrated 4K workflow
The HVO-4000MT records 4K video and still images in 2D or 3D from endoscopic/laparoscopic cameras, surgical microscopes and other compatible imaging systems. Video files can be stored simultaneously on the recorder's hard drive and external media or IP network server for patient records, training and education. The recorder simultaneously creates a Full HD copy of 4K source content for easy sharing and viewing on our 4K surgical monitors.
Capture your procedures 4K, 3D or 4K 3D
Ideal for documenting critical or rare cases or for training and education purposes, the HVO-4000MT supports both 4K resolutions of 4096 x 2160 (True 4K) as well as 3840 x 2160 (4K UHD) and records them using the state-of-the-art Sony XAVC codec standard based on H.264/AVC format. Users can select bitrate range of 150, 100 or 60Mbps, depending on their requirements for picture quality and recording length.
The HVO-4000MT goes further towards future-proofing your workflow – supporting 4K 3D input as well (Line-by-Line and Top-and-Bottom). 3D signals are always recorded in top-and-bottom with a resolution of 3840×2160 and at 59.94p/50p. Still images also can be saved any time during the procedure recording in 2D or in 3D format.
Patient information input via DICOM MWL
Support for DICOM Modality Work List allows automatic input of patient information from RIS or other DICOM worklist-servers via the hospital network. Hospital staff no longer need to manually key-in patient information data before surgery, avoiding human error and saving time. (Requires firmware version 1.2 or later).
Simultaneous recording via network
The recorded data can be transferred from the operating room to computers via CIFS protocol over the network, for convenient and centralised storage and sharing. This can be done during the recording itself allowing users to access recorded files quickly after a recording is complete. Data transfer via CIFS can also be done at any other point in time from the recording list.
This eliminates the additional step of users having to transfer recordings onto their PC using an external media source and enables an effective network base for video sharing.
User-friendly features for healthcare professionals
Multiple remote-control connectivity
Besides the supplied infrared remote controller and optional touch monitor, the HVO-4000MT can be controlled via contact switches, such as buttons on endoscopes. Also, a USB keyboard can control a series of functions using function keys. Key assignment is fully configurable.
For in-depth integration into complex modality workflows, remote control is possible via command protocol using either the RS-232C or the USB interface.
Touch panel support
Adding an optional external touch panel monitor simplifies data input and operation (e.g., entering the patient's ID, name, gender and date of birth). The touch is also very useful for quick preview and playback of recorded video plus an easy and quick access to recording list and settings.
Easy management of content
This standalone recorder saves video and still images to an internal hard disk drive, which makes it suitable for a wide range of healthcare environments. It can also record simultaneously to an external USB 3.0 drive, to optical disk, or to a compatible network server. This enables easy content management, a valuable feature for training and education purposes.
4K input support for 2D and 3D formats
HVO-4000MT accepts 4K video signal via four 3G-SDIs. Supported formats include 2D as well as 3D. For 3D input signals Line-by-Line as well as Top-and-Bottom are supported which will be recorded in top-and-bottom 3D video format.
In addition, HVO-4000MT accepts HD video input via 3G-SDI. Supported formats are 1920 x 1080 59.94p/50p (2D BT.709 only. Requires firmware version 1.2 or later).
Long recording time
The recorder's high-capacity 4TB disk drive allows long duration video recording, even in 4K. Three image quality settings (Standard/High/Best) permit between 46 and 119 hours of 4K video recording (or between 311 and 634 hours of Full HD video recording). Individual recordings can be up to 24 hours long meaning even long and complex operations or procedures can be recorded easily.
4K/FHD simultaneous recording
HVO-4000MT is able to record FHD images from 4K images internally. This is particularly useful when balancing the need for the higher resolution 4K images, with the more common daily use of FHD videos. HVO-4000MT provides the solution to meet this dual demand.
Designed for use in surgical environment
Light and compact design
For ease of use and integration with medical carts, the HVO-4000MT's compact design saves space with its sleek dimensions of 305 mm (W) x 115.5 mm(H) x 329 mm (D) and 6.5 kg of weight.
Unmatched video quality on front panel
HVO-4000MT has a 3.5" colour (960 x 540 pixel) LCD on the front panel showing current input image and status, playback images and recorder settings. It allows users to control video input as well as change settings without an external display.