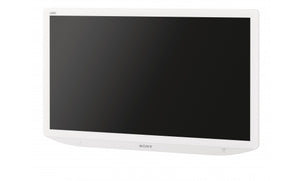 High-performance, easy to use multifunctional 32-inch 4K medical grade monitor
The LMD-X3200MD 32-inch medical grade monitor displays very high quality 4K Ultra HD 2D colour images. Slim, light and easy to use with generous signal connection options, the widescreen (16:9) monitor features a flat, hygiene-friendly design that's optimised for use in medical environments.
Please note that this equipment is not intended for diagnostic use.
32-inch monitor with superb 4K Ultra HD picture quality
The LMD-X3200MD displays extremely high quality 4K Ultra HD images with a resolution of 3840 x 2160 pixels (16:9 screen aspect ratio). Thin, light and suitable for boom arm mounting, the monitor features a large 32-inch panel that provides an image wider than the 31 inch LMD-X310MD within the same chassis width.
Anti-reflection structure
The LMD-X3200MD is designed to minimise reflected glare in brightly lit operating rooms, including distracting reflections from surgical lights. The display's scratch resistant anti-reflection panel structure reduces light dispersion to ensure clear, high-contrast images under a wide range of illumination conditions and under various viewing angles.
Accurate colour reproduction and more realistic visualisation
The monitor's advanced LCD panel and signal processing technology support highly consistent, accurate reproduction of a wide colour gamut. This complies with ITU-R Recommendation BT.2020 that represents a significantly wider gamut than the BT.709 colour space, allowing superior colour reproduction and more realistic visualisation.
Advanced features
The design and powerful imaging features of the LMD-X3200MD ensure optimal performance and usability in demanding surgical environments.
Enhanced clarity with proprietary Advanced Image Multiple Enhancer™ technology
Sony's proprietary A.I.M.E. (Advanced Image Multiple Enhancer) technology enhances the visibility of displayed images to assist surgical teams. Structure Enhancement mode improves recognition of the object's outline, allowing structures to be seen more clearly with increased sharpness; while the Colour Enhancement mode feature allows tonal differences to be manipulated for greater visibility. Newly added Shadow Enhancement mode improves visibility of fine detail in dark image areas. Enhancement parameters can be adjusted directly via buttons on the monitor's front panel.
Clone output
This feature allows the user to clone the exact image on display on the monitor – with various display settings switched on such as A.I.M.E. or picture-in-picture – on to a secondary display via the monitors output at the same time. This allows OR staff and students to view the same content that's being viewed by the surgeon on a bigger display. This cloned image can also be recorded via recorder connected to the monitor. Resolution of the clone output can be selected as 4K or down converted to HD as required.
V Full mode
Along with the standard variety of display modes that come with our monitors – side-by-side, picture-in-picture (PIP) and picture-out-picture (POP) – the LMD-X3200MD comes with the newly added V Full mode, that allows users to change the aspect ratio of POP images to 16:9. As a result, the usually smaller POP images can be enlarged and displayed full screen. The user can large either both of the POP images or just one of them depending on the requirement.
Wider brightness levels and greater contrast thanks to HDR
HDR technology allows the LMD-X3200MD to accurately reproduce images with a wider range of brightness levels, greater contrast and rich colours. When receiving HLG (Hybrid Log-Gamma) signals from a compatible imaging system, selecting HLG in monitor gamma setting mode allows the monitor to display HDR images.
Designed for ease of use and safety
The LMD-X3200MD is designed for ease of installation and reliable, user-friendly operation.
More flexible, user-friendly cabling
All cable connectors on the monitor's redesigned rear face downwards for easier, more tidy cable hook-ups. Installation is simplified with three cable access points. A small cable cover is useful when the LMD-X3200MD is attached to a monitor arm. A medium-sized cable cover specifically for the 12G-SDI input/output connector is useful for providing a through-out connection to a second monitor without removing the large cover that protects all the other connectors.
Auto Input Select mode
When Auto Input Select Mode is enabled, if the main input signal is accidentally interrupted the monitor automatically switches to the second port to minimal interruption. If the main input signal recovers the monitor automatically switch back to the first port as it is the preferred source input.
Various IN/OUT connectors including 12G-SDI
The LMD-X3200MD offers a wide range of connectors such as 12G-SDI, 3G-SDI, Display Port, HDMI and DVI to meet a wide variety of user needs.
Hands-free remote control
When connected to a single contact remote control (e.g. footswitch FS-24, optional accessory), surgeons can take advantage of hands-free operation of menu functions such as switching A.I.M.E. on/off, A/B port input, PIP/POP, and flip pattern. This means less interruptions and movement within the OR.
Dual AC/DC powering options for flexible integration
The choice of direct AC power in, or DC in via optional AC power adapter (AC-300MD AC adapter is sold separately) makes installation easy in different environments.
Backlit intuitive control panel for easy navigation
LED backlighting only highlights active control buttons on front panel to guide the user, especially in dark environments. Custom buttons can be assigned to commonly used functions.
Flat surface design for easy cleaning
An edge-to-edge flush front surface allows liquids and gels to be easily wiped off the LCD panel and control buttons. The rear of the monitor features flush cable covers and a smaller ventilation hole area to simplify thorough cleaning.
Compliance Statement
This product is distributed to the US and EU as a medical device and satisfies product safety standards (e.g. IEC 60601-1).
For more details, please contact your nearest Sony sales office or an authorised dealer.