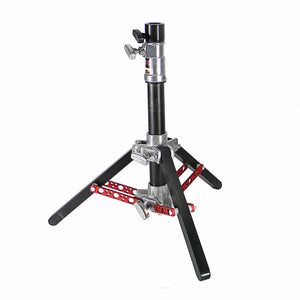 Mini Slider Stand
#249564
Features Steel Tubes, Steel Legs, Military Black Chrome; and a Machined, Welded Junior Receiver. Capacity up to 80lbs (36kg).
Accessories: PN 429029 Stand/SPUD Adapter
PN 415173 Baby Ball Head Adapter
PN 388210 Magic Finger
Mini Vs The Slider Stand Comparisons:
Minimum Height...20" (51cm) vs 24" (61cm)
Maximum Height...38" (97cm) vs 46" (117cm)
Footprint...19" (48cm) vs 37" (94cm)
Weight...10lbs (4.5kg) vs 14lbs (6.5kg)
Mini Slider Stand does not come with Rocky Mountain Leg
Features and Benefits
Thick threaded collars ensuring a solid bite from t-handles and set screws.
Stay put T-handles wont fall out of riser castings.
V-shaped brass brakes ensuring 3-point strong contact.
Machine welded junior receiver.